Veterans receive solemn salute from BGMS students and staff – BG Independent News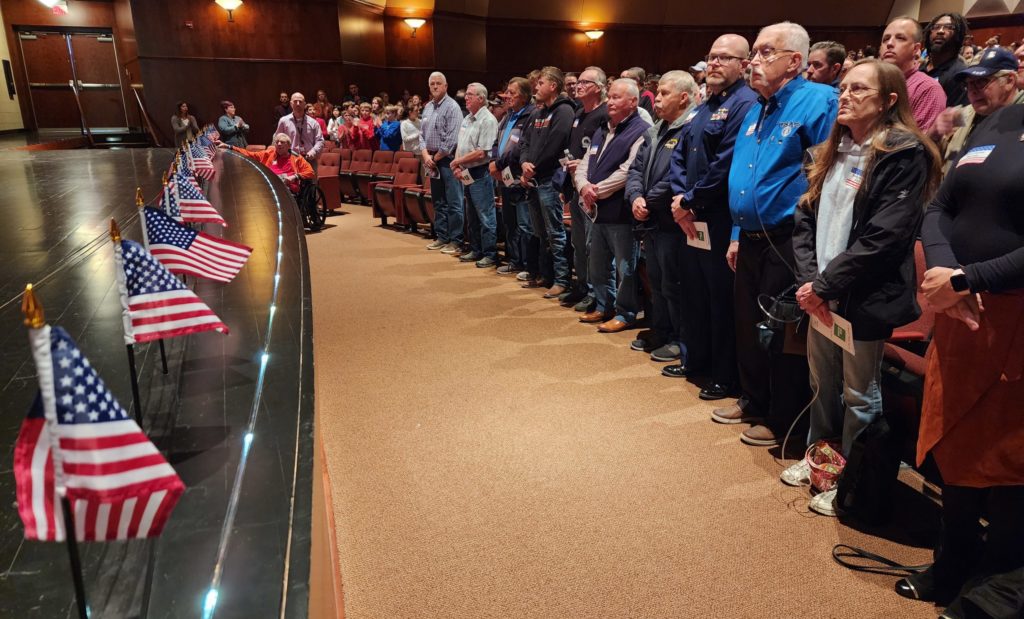 By JAN LARSON McLAUGHLIN
BG Independent News
World War II Army veteran Harold Mercer had little in common with students at Bowling Green Middle School – being separated by nearly 85 years and battle experience.
But as nearly 100 veterans were honored Friday at the school's annual Veterans Day, Mercer felt the love from the students filling the Performing Arts Center.
Mercer, 98, was swept away by patriotic music, readings by students who overcame their nervousness and frequent applause from unusually respectful middle schoolers.
Mercer was the only World War II veteran present.
"Few of us left," said Mercer, who served in the infantry in England, France and Germany. All of his friends who served in World War II are now gone. "I survived them all," he says.
He was joined by Tom Otley, an Air Force veteran who served in Vietnam, who also cherished the annual program.
"It's a great program," Otley said.
"I never miss one," Mercer said.
Anthony Martinez, who served in the Air Force in Iraq, enjoyed the program and the handwritten letter he received from an eighth-grader.
"It was beautiful, I loved it," Martinez said.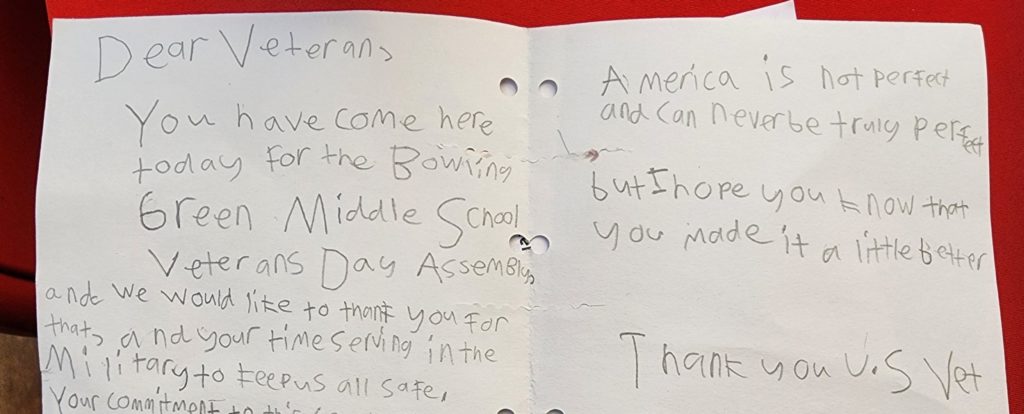 The letter began by thanking the veteran for serving in the military and protecting us.
"Your commitment to this country is recognized and appreciated," the letter continues. "I hope you can live a good rest of your life knowing that you did something good. Without you, our freedom might not exist.
Next, the eighth grader expressed personal feelings.
"Even if you don't believe in what I believe in, I hope you fought for everyone living in America to be equal, regardless of their identity," the student wrote. "America is not perfect and can never be truly perfect. But I hope you know you made it a little bit better.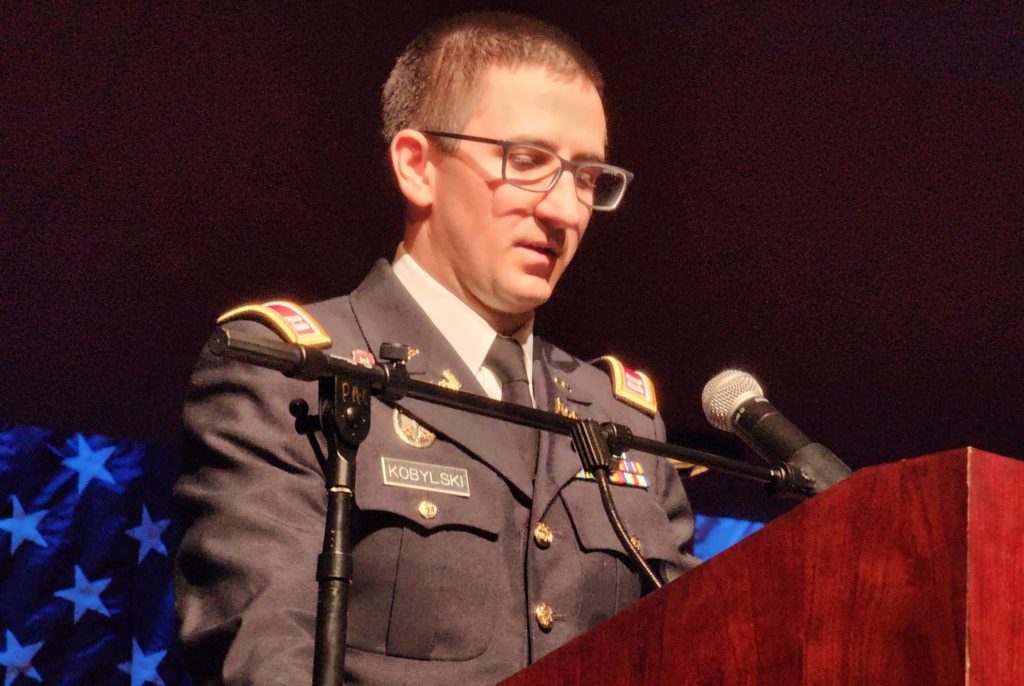 The students heard from keynote speaker, U.S. Army Capt. Jared Kobylski, a 2013 BGHS graduate. Kobylski attended U.S. Military Academy West Point, where he was commissioned into the U.S. Army as a engineering officer. He is currently the Company Commander for HHC, 7th Engineer Battalion, 1st Brigade, 10th Mountain Division at Fort Drum.
Kobylski spoke about the decrease in the number of people serving in the army. Most of them (61%) had family or friends who served.
The military are the army's greatest asset, Kobylski said.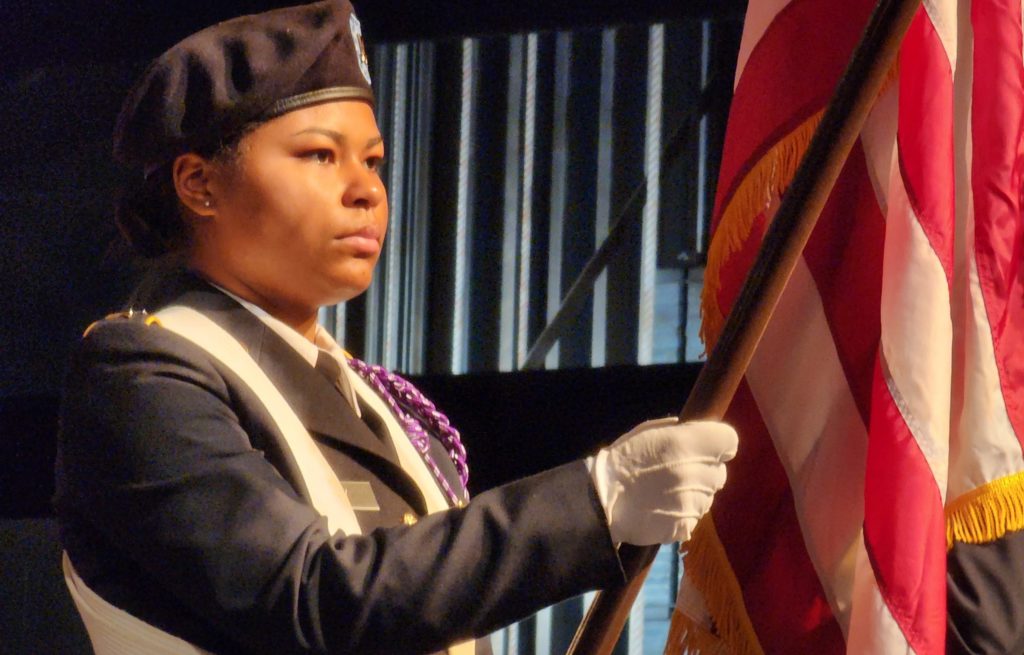 As it was the 50th anniversary of the start of the Vietnam War, Kobylski reflected on the 9 million Americans who served in that war and the 6 million who are still alive.
"Some of them are here today with us," he said. "This day belongs to them."
Veterans did not stop serving when they returned from battle, Kobylski said. Veterans fought in wars and then "returned home and continue to serve our nation", he said.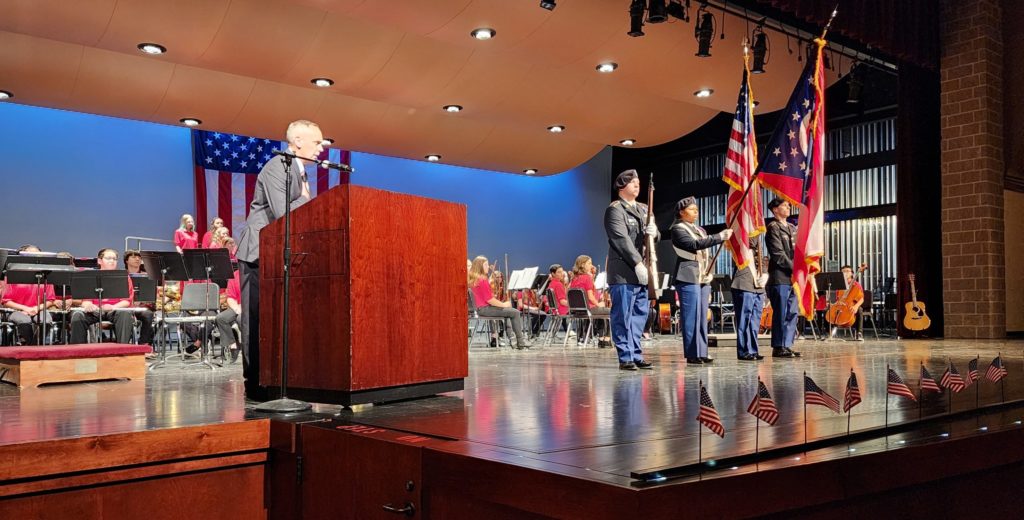 The Veterans Day program is set up each year by teacher Pat Carney. The music was performed by the choir, band, orchestra, and a solo by seventh-grade student Madison Carney.
Professor Joe Nauman read Civil War soldier Sullivan Ballou's last letter to his wife, Sarah, as the orchestra played the haunting Ashoken Farewell. Ballou later died at the Battle of Bull Run.
Readings and presentations were made by the students, Mack Maxey, Colbie Lewis, Konner Chambers, Cole Nagel, Sam Gorsevski and Caden Ferris. Eighth grader Tess Challu read her Patriot's Pen essay.
Students and staff submitted photos of family members who served in the military, and as the band performed the Armed Service Medley, veterans from each branch turned to face the students.