Prayer is the musical staff of the melody of life
Why did Saint Paul exhort us to pray constantly? What could he have meant? Pope Francis considers.
Pope Francis during the June 9 General Audience considered one of his favorite books and a favorite prayer, to reflect on St. Paul's command to pray without ceasing: from the First Letter to the Thessalonians: "Pray constantly, always and for everything give thanks" (5:17-18).
For the second time in this series of teachings on prayer, the pope spoke A pilgrim's path. It's the story of an anonymous pilgrim who travels through Russia and ends up embracing a simple prayer now known as the "Jesus Prayer".
The words of the Apostle struck the [pilgrim] and he wondered how it was possible to pray without interruption, since our lives are fragmented into so many different moments, which do not always allow concentration. From this question, he begins his research, which will lead him to discover what is called the heart prayer. It consists in repeating with faith: "Lord Jesus Christ, Son of God, have mercy on me, a sinner!

"Lord Jesus Christ, Son of God, have mercy on me, a sinner!

A simple, but very beautiful prayer. A prayer which, little by little, adapts to the rhythm of the breath and extends throughout the day.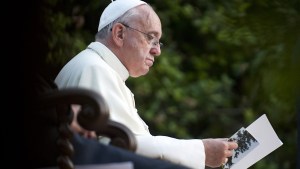 The Pope explained that just as our breath is the backdrop to everything we do, the prayer of the heart can be "the breath of life."
The monk Evagrius Ponticus thus declares: "We were not commanded to work, to watch and to fast continuously" – no, it is not required – "but it was prescribed that we must pray without ceasing" (CEC 2742).

The heart in prayer. There is therefore an ardor in the Christian life which must never wane. It's a bit like the sacred fire that was maintained in the ancient temples, which burned without interruption and that the priests had the task of maintaining. There must therefore also be in us a sacred fire which burns continually and which nothing can extinguish. And that is not easy. But that's how it should be.
The melody of life
Inspired by a reflection of Saint John Chrysostom, the Holy Father offered an image: Prayer is a kind of musical staff, where we inscribe the melody of our life.
Saint John Chrysostom, another pastor attentive to real life, preached: "Even while walking in public or walking alone, or sitting in his shop, buying or selling, or even cooking" (CCC 2743).

Little prayers: "Lord, have mercy on us", "Lord, help me". Thus, prayer is a kind of musical staff, where we inscribe the melody of our life. It does not contrast with the daily work, it does not contradict the many small obligations and appointments; it is rather the place where each action finds its meaning, its reason and its peace. In prayer.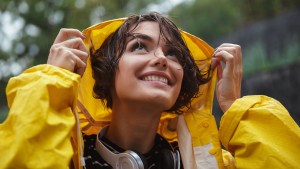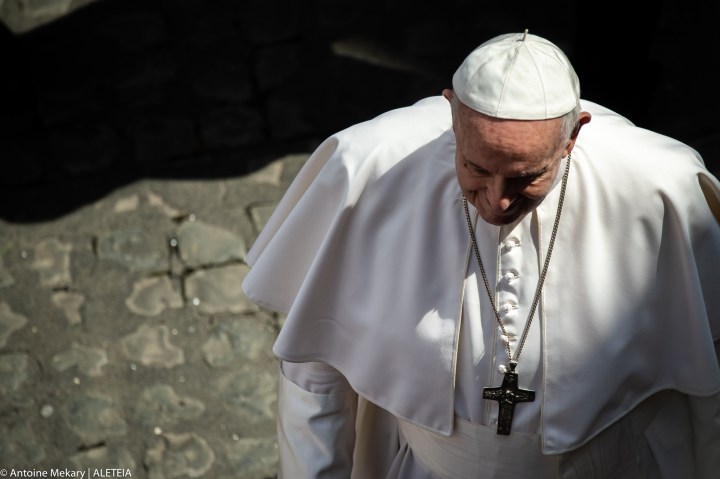 Match made in heaven
Pope Francis has recognized that forming this type of prayer life is not easy. He pointed out that busy parents can miss the time of their lives before children, when it is easier to find times to devote exclusively to prayer.
But, he added, work and prayer must be complementary.
It is dangerous for man to cultivate such an abstract interest that he lose touch with reality. Work helps us stay in touch with reality. The monk's hands clasped in prayer bear the calluses of those who wield shovels and hoes. …
Prayer – which is the "breath" of everything – remains as a living backdrop to the work, even in times when it is not explicit. It is inhuman to be so absorbed in work that one no longer finds time to pray.
At the same time, a prayer that is foreign to life is not healthy. A prayer that moves away from the concrete of life becomes spiritualism, or worse, ritualism. … In this way, the time spent staying with God revives faith, which helps us in the practical aspects of life, and faith, in turn, nourishes prayer, without interruption. In this circularity between faith, life and prayer, we maintain this flame of Christian life that God expects of us.
The Holy Father concluded by reiterating his invitation to pray the Jesus Prayer throughout the day.
And let's repeat the simple prayer that is so good to repeat during the day. Let's see if you still remember. All together: "Lord Jesus Christ, Son of God, have mercy on me, a sinner! Saying this prayer continually will help you in union with Jesus.