I Won't Rest – Stephanie Otobo Attacks Apostle Suleman Again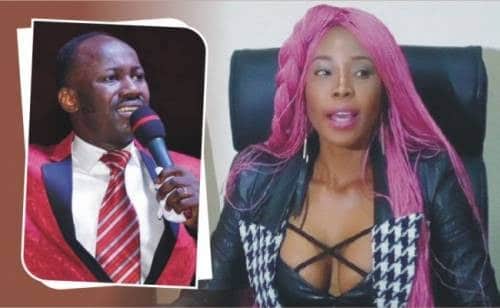 Controversial Canadian singer, Stephanie Otobo threatened not to rest until she got the General Overseer of Omega Fire Ministries, Apostle Johnson Suleman, convicted for his actions against her.
Otobo in a series of posts on her Twitter account accused the cleric of stopping her from releasing her song with Timaya years ago.
According to the singer, she had paid 3.5 million naira to Timaya for a musical collaboration, but was arrested two days before the video was shot.
She further said that she had paid Clarence Peters 1.5 million at the time and she had to hand over 1 million naira to him but Apostle Suleman sent police officers who took away the phone where the song was recorded.
Otobo who posted a photo of her and Timaya wrote, "At Timaya's home studio, when I came to Nigeria in March 2017, I had a musical collaboration with Timaya, I paid him 3.5 million naira. He put me in touch with Clarence Peters for the filming We never released the song because Apostle Johnson Suleman stopped me 2 days before the video was shot.
"The police that Apostle Suleman sent to arrest me, took my phone that the song was in, which also had more evidence of me and his love story, this was all to clear the tracks and shut me up. But thank goodness I had receipts saved in my ipad and Timaya's picture was on IG.
"Just 2 days away from my video shoot, me and my friend who connected me with Timaya came from Canada that month. This juju apostle locked us both up for 3 days with no bail. That's which pushed me to express myself at the beginning. I never wanted to speak.
"I don't even have the song I paid 3.5 million naira for. As soon as the saga broke, I didn't even have the concentration for the music. For the next 18 months, I was troubled by the oppression and legal action sparked by corruption. Fly from Canada for court hearings twice a month.
"My lawyer said that I should not sleep in Nigeria. I have to go back after each hearing. Oh, that was crazy. I don't see anything. Until I'm exhausted and stuck. Apostle Suleman has now convinced me that the only way out is to make a false confession that I lied against him.
According to Otobo, Timaya never refunded her money and wasn't even ready to cover the song, she said, "but I was in a scandal with a very high profile person like Apostle Johnson Suleman , he was just trying to stay out of trouble. But he would have at least encouraged me with half the money back. That's good.
"I paid Clarence Peters N1.5m to balance N1m, he asked me to come and shoot when I'm ready. That was just the start of this apostle Johnson Suleman getting heartless to me because he wanted limit the damage of his dirty character. I didn't even care what I had been through.
"Till this day I haven't gotten my phone back. Without my iPad, I couldn't have saved receipts. I was supposed to have been blown away by music now. Unfortunately, I became famous for the negativity. Had no choice. Think it's weight? Smh. I'm just telling my story.
"It's painful, you expect me to go through all of this and worse, so you shut me up?" If I was your parent, would you tell me to calm down? I want justice. Imagine all that it cost me these years and no compensation. No justice, people have a bad opinion of me. I will not rest.