Could the Lakers and Nets super team beat the rest of the league: LeBron James and Kevin Durant vs. Stephen Curry and Giannis Antetokounmpo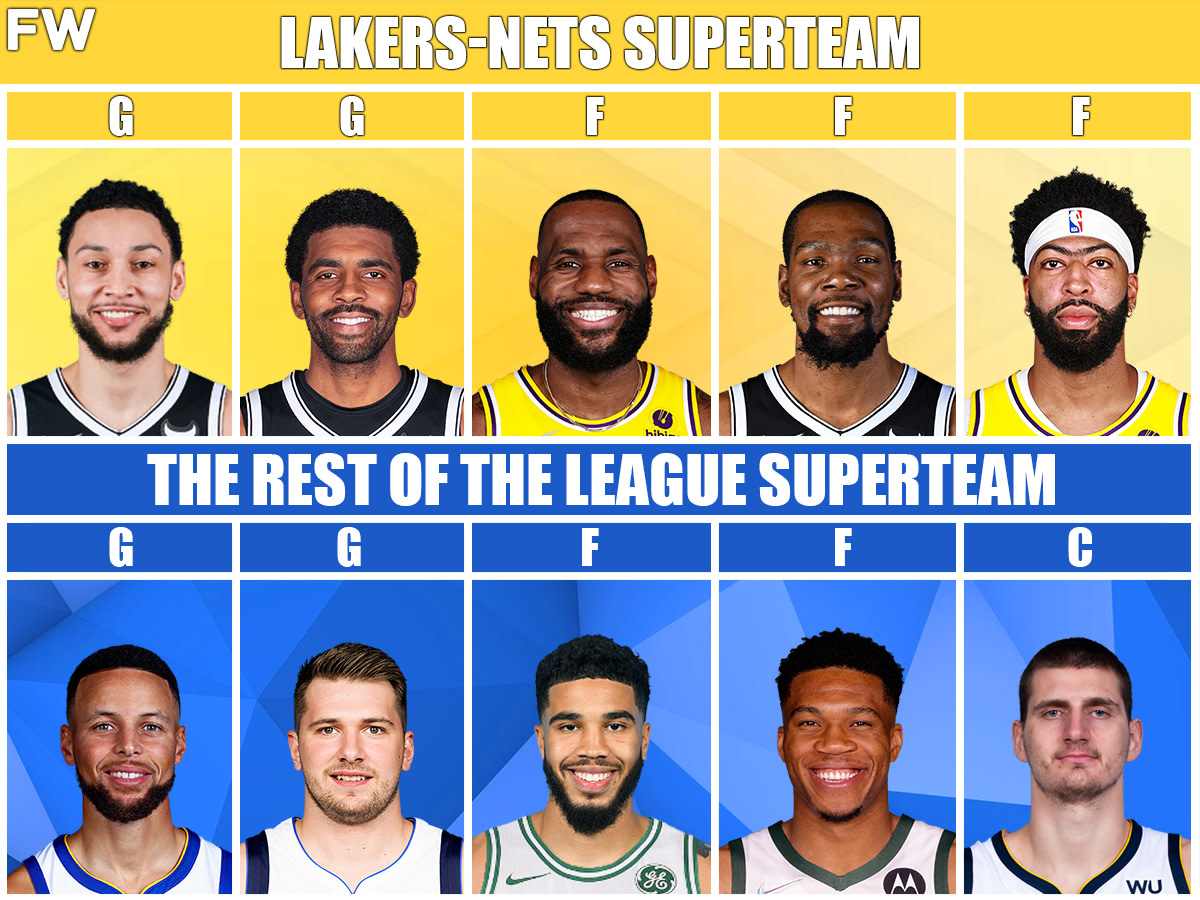 The Los Angeles Lakers and Brooklyn Nets were expected to fight for the NBA championship this year. In fact, they were the two teams that had the best chance of advancing to the NBA Finals and battling it out for the elusive NBA title. But that didn't happen, as the Lakers missed the play-in and the Nets were swept in the first round of the playoffs.
No one could have predicted this at the start of the season, but that's the beauty of competition. Of course, there were a ton of reasons why both teams failed on the field during the regular season. The Lakers couldn't bring out the best in Russell Westbrook and injuries hampered their season. Meanwhile, the Nets were without Kyrie Irving for most of the season, and James Harden forced his way out of Brooklyn in a trade that brought an injured and unavailable Ben Simmons.
There is no doubt that both teams are considered super teams, and it would be even crazier to imagine the best players from both teams combining into one team. By taking the top 5 players from both teams and creating the best formation possible, would this team beat the top 5 players collected from the rest of the league? It's time to find out.
---
Ben Simmons vs Stephen Curry
Ben Simmons is a unique playmaker because he's so massive at 6'11" and he doesn't have any sort of perimeter shot. Simmons is more of an all-around star who is an elite passer and defender, so his job will be to pick up the pace and prepare his teammates while guarding Steph Curry.
Curry is the complete opposite of Ben Simmons as he is a sharp outside shooter who is not known for his defensive potential. In a clash of opposites, Curry will take the game to Ben as much as possible and try to put pressure on the Australian playmaker.
---
Kyrie Irving vs Luka Doncic
Kyrie Irving will join his Australian teammate to form one of the best two-way backcourts in the game. Irving is not only a sniper who can create his own offense, but he is also an exciting player who instills confidence to his teammates with high-profile plays.
Luka is similar to Kyrie in that he creates his own attack, although he is a much better playmaker and an all-around talent. Doncic is known for his deep streaks, but he'll make up for it by being a triple-double threat on the floor and trying to bully the smaller Irving into the paint.
---
LeBron James vs. Jayson Tatum
An exciting game for sure, the veteran King James has to put his talents to good use against a younger and more energetic Jayson Tatum. LeBron is still one of the most unstoppable players in the game and will have no problem physically applying force against the thin forward. James will also share ball handling duties with Ben Simmons.
Meanwhile, Jayson Tatum begins to improve his game in big games in exciting matches. The spectacular striker has an elite outside jumper and has improved his defense as well. Tatum isn't just a great shooter, but a player who will be a go-to star in the clutch when offensive sets plummet.
---
Kevin Durant vs Giannis Antetokounmpo
Kevin Durant isn't a prototypical striker in the sense of having girth and strength, but he's an elite spacer with incredible length. Competing against a powerful athlete like Giannis, Durant's length can come in handy when contesting shots around the edge. Of course, KD is the most skilled offensive player in the series when considering his mid-range and three-point skill.
Giannis is the best all-around player in the series, usurping Ben Simmons in this respect due to his ability to knock down outside shots when needed. Antetokounmpo is unstoppable when he has an open lane as no player in the league has the size or the length to stop The Greek Freak from getting what he wants.
---
Anthony Davis vs. Nikola Jokic
Anthony Davis isn't a fan of competing in the central position, mainly because he lacks the raw strength and durability to strike low with Nikola Jokic. That doesn't mean Davis will be rendered ineffective because he's one of the most skilled greats of all time. An outside shooter and solid defender, Davis must play well for his team if they are to win the series.
Jokic is a natural center due to his massive frame, although he lacks any form of muscularity and explosiveness, he can certainly provoke Davis on the block. An excellent passer and outside shooter as well, Nikola will be extremely valuable to his team as he is surrounded by a ton of goalscorers who will thrive on his presence.
---
Lakers/Nets Super Team Perks
The Lakers and Nets superteam has elite playing ability, which means they will get a good quality appearance. LeBron James has the highest basketball IQ in the series, and it will be difficult for opposing players to deal with the good looks that Kyrie Irving, Kevin Durant and Anthony Davis will get.
Simmons is also unstoppable when he has the ball during the break as he has two snipers running alongside him and two other athletes to pass the ball to. The presence of Simmons in defense is a plus, as is the perfect cohesion between James and Davis at both ends of the field.
---
Advantages of the super team from the rest of the league
The rest of the league's super team is brimming with spectacular attacking talent, as no player on the team has a single weakness. Simmons can't space the floor, James and Davis are streaky outside shooters, and Kyrie Irving lacks physical girth.
This superteam doesn't have that problem, as it's stacked with unstoppable scorers. Steph is the best ground shooter, Luka is a triple-double machine, Giannis is the best two-way player in the game, and Jokic is the best natural center in the game. Adding Jayson Tatum's shot creation, the super team Rest Of League will be impossible to defend.
---
Who wins a Best-Of-7 series?
Game 1 goes to the Nets/Lakers super team as they strike a good balance between offense and defense. LeBron James imposed his will in the first quarter, scoring 12 points on 5-7 shooting from the field. The Rest Of League team struggles from the perimeter, hitting 33% of their shots and failing to slow LeBron and company. Game 1 ends 110-101 in favor of LeBron's team.
Game 2 goes to Team Rest Of League because Steph and Tatum combine for 60 points on 46% shooting from the field. Jokic controls the paint with 15 rebounds and 9 assists, feeding his shooters at the break and giving them a 70-54 lead in the first half. With the game already out of control, Team Rest Of League takes a 120-103 win.
Thanks to the presence of Giannis Antetokounmpo, Team Rest Of League started strong and also ended the match in style. The Greek Freak drops a monster 36 points, 15 rebounds and 10 assists while offering a big block on Anthony Davis late in the game to seal the deal. With the game tied 105-103, Davis catches a lob from LeBron only to have Giannis sky for the game's save block.
The Lakers and Nets superteam bounce back with a big performance, thanks to the presence of Kyrie Irving and Anthony Davis. The talented scorers go ballistic in the second half, combining for 40 points and taking the game out of control. Kyrie finished with 34 points and Davis unleashes a 30-14 double-double, securing a 115-103 win in Game 4.
In a nail biter, Team Rest Of League arrives with an unlikely victory. The Nets and Lakers get a 20-point finish in the first half, leaving Team Rest Of League plenty to discuss at halftime. Tatum and Steph cut the lead to 10, but a buzzer-beater late in the third by Durant regained the lead to 13. Giannis woke up with 3 minutes left, scoring 6 straight points and assisting a Tatum corner three to reduce the lead to 4 points. On a miss from Anthony Davis, Nikola Jokic finds a cutting Luka for an And-1. The pressure was on and a miss from Durant led to another three-pointer from Tatum to give his team a one-point win in Game 5, 110-109.
A must win for the Lakers and Nets, they fail to get the shots they need to force a Game 7. Simmons is limited to 10 points, Kyrie goes 1-7 of three and the team fails to control Giannis and Jokic. . LeBron, at his age, can't handle the height and girth of big players. Durant and Davis try their best, but they can't overcome Giannis' physique and Nikola's bulk. With Luka grabbing a triple-double and Steph dropping 26 points, Game 6 ends 124-118 with Giannis earning Finals MVP honors.
Final Result: Rest of League Superteam vs. Nets/Lakers Superteam 4-2
Finals MVP: Giannis Antetokounmpo
Following
Young NBA Superteam vs Old NBA Superteam: Who would win a 7-game series?
Orlando Magic Franchise Awards: Dwight Howard is the Magic GOAT, Shaquille O'Neal wins All-Time Rookie
The last 10 centers in the NBA who won a scoring title
2000s Superteam vs. 2010s Superteam: Kobe and Shaq vs. LeBron, Durant and Curry
Highest PPG at any age: Kobe Bryant holds the record at 18, Michael Jordan at 34, LeBron James at 37