5 Saint-Bonaventure employees win the Presidential Staff Excellence Awards | News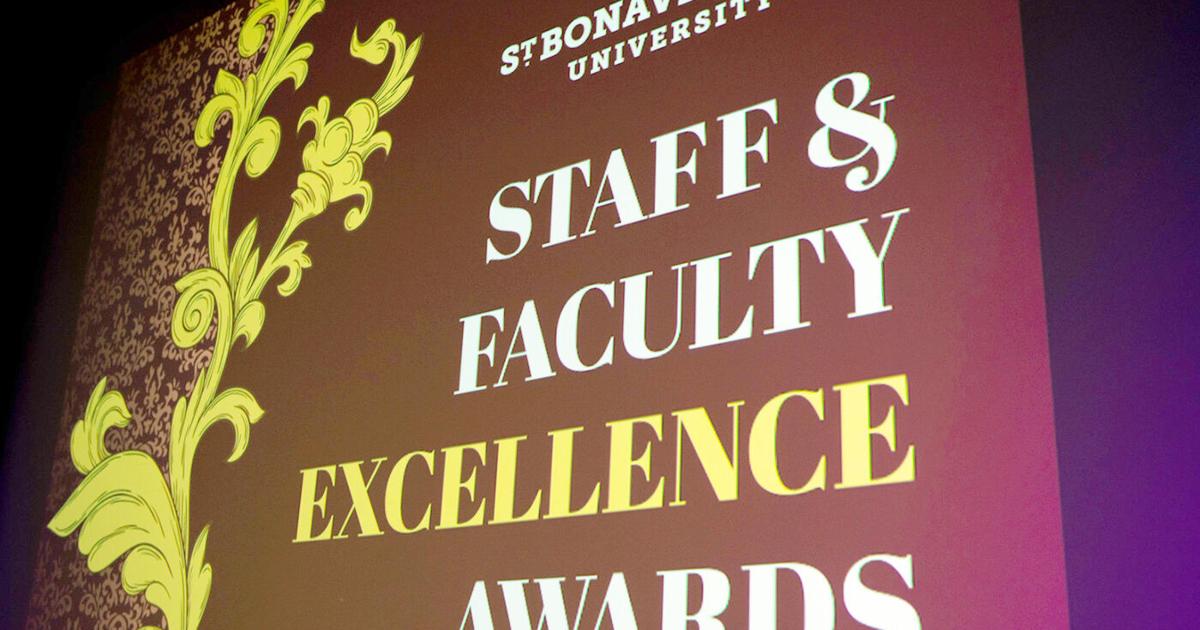 ST. BONAVENTURE – Five dedicated staff members were honored April 28 with Presidential Awards for Staff Excellence at Saint-Bonaventure University.
The awards were presented at the third annual Staff and Faculty Excellence Awards, held for the first time in person.
At the Quick Center event, faculty members Dr. Scott Simpson and Dr. Elizabeth Tillman were also recognized for the Faculty Achievement Awards they received, six retirees and outstanding employees by five-year tranches from 10 to 35 years.
The Staff Awards were first presented in 2020 to honor the work of individuals in the academic workforce who had long been overlooked for their efforts.
The Outstanding Staff Achievement Award, given to a staff member who has provided exemplary support or service to the Bonaventure community and/or its region or team, was won by Chris Scheppner, Associate Director of admissions.
Scheppner, who earned his bachelor's and master's degrees at Bonaventure in 2014, has "devoted his life to service to the university" and is "the biggest Bonaventure advocate I know," said one nominator.
Among Scheppner's many responsibilities, he is the liaison with the Franciscan Health Professions Program and successfully manages the inner workings of each program, serving as a point of contact for the hundreds of students who apply to the program each year.
The Customer Support Award, given to a staff member who provides prompt and professional service to internal and external constituents and responds to their needs and requests, was won by Lori Yardman, associate in the Office of Institutional Research.
"Few people fully grasp all that Lori does, but her work is essential to the university," said one nominator. "His support for the university and its students extends across divisions and departments."
Yardman extends its support to scholars by supporting APEC and through the grants function by keeping track of documents, document versions, critical dates and data needs.
The Advocacy Award, given to a staff member who has contributed to improving the work environment, was won by Adriane Spencer, Director of Accessibility and Accommodation Services.
Spencer has been described as someone who "does a great job of not only meeting student needs, but also communicating with faculty. She is timely, professional, compassionate in her interactions and very passionate about the students she works with.
Spencer works diligently to ensure access to all aspects of life at St. Bonaventure for students with disabilities and has implemented an interactive process to work with students to assess how their disabilities affect their lives here. and to establish accommodations that ensure that students can enjoy the academic and extracurricular elements of the student experience at the university.
The Innovation and Change Award, given to a member of staff who helps develop new and improved processes, methods, systems, products or services and encourages others to do the same and makes 'innovation a priority', was won by Kyle Leslie, director of the organization's development and human resource information systems.
She is incredible. I can't say enough about her," said one of the nominators. "Kyle brings a level of professionalism to the HR office and has been instrumental in implementing NeoEd, our new faculty and staff recruitment and selection software."
Leslie has "single-handedly streamlined the onboarding process, worked to reduce unnecessary paperwork, and is constantly striving to make SBU a great place to work. I am truly blessed to work with her every day.
Rookie of the Year, awarded to a staff member who has demonstrated responsibility, growth, leadership, commitment to the university and, this year in particular, remarkable patience in difficult situations, was awarded to Skyler Pierce, Medical Administrative Assistant at the University's Wellness Center. .
More than one person who named Pierce said she "always goes above and beyond for the team" and was "the backbone of our center of operations."
Not only did she arrive at her post during a pandemic, in the midst of a leadership change, but she also managed "to help keep the ship afloat during the transitions. She basically got on board and started filling in the gaps. Pierce was also praised for building an organization during a turbulent time when the health services returned to be brought back into the council.
Milestone employee and retiree birthdays are:
Mary Ash (library), Genny Brockel (registrar's office), Anthony Card (housekeeping), Pamela Ferman (CCRP), John Filjones (sibling), Benjamin Gross (sociology and criminology), Kelly Hale (facilities), Stephen Jodush ( biology), Richard Lee (Jandoli School), Angela Nelson (advancement), Patricia Nye (arts and science), Matt Retchless (graduate admissions), Megan Walsh (arts and science), Scott Walters (maintenance)
Ludwig Brunner (Quick Center), Tom Buttafarro (President's Office), Kimberly DeSimone (Jandoli School), Will Elenchin (Sociology and Criminology), Evelyn Penman (Quick Center), Mark Schmidt (Men's Basketball)
Judy Barton (housekeeping), Beth Eberth (marketing and communications), Anne Foerst (IT), Dennis Frank (archives), Janet Glogouski (advancement), Mary Rose Kubal (political science), Tom Missel (marketing and communications), Todd Palmer (management), Susan van der Horst (financial aid)
Joel Benington (Biology), Donna Brestensky (Chemistry), Carl Case (Management), Maureen Cox (Mathematics), Tim Hill (Technology Services), Carl Hunter (Housekeeping), Bob Keenan (Advancement), Denny Wilkins (Jandoli School)
Charles Lute (Maintenance), Joseph Questa (Maintenance), Father Peter Schneible, OFM (Biology), Patty Shumway (Business Office), Daniel Tate (Philosophy)
Brian McAllister (Accounting, 45), Larry Sudbrook (Baseball, 36), Joe Flanagan (Alumni Services, 35), Mary Wiley (Safety & Security, 22), Michael Kramer (Advancement, 18), David Kassnoff (Jandoli School, 7 years old)